Why iRonin.IT?
100% remote work, advanced projects, a well-coordinated team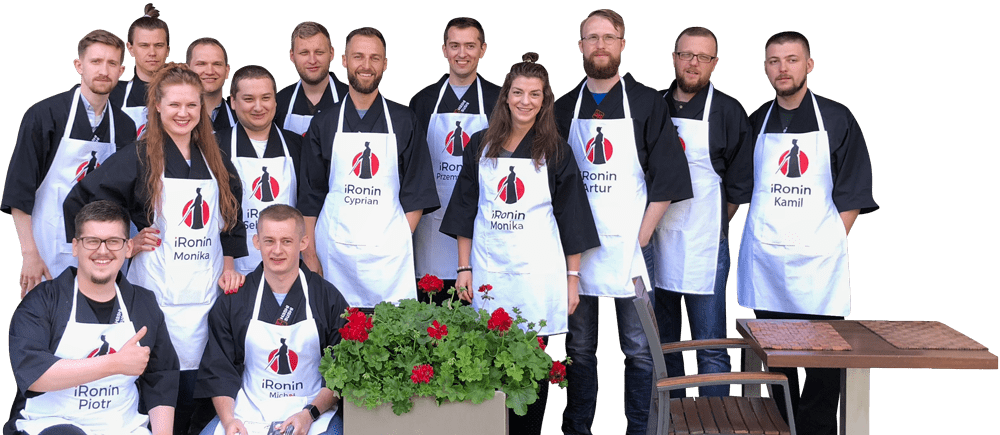 iRonin team
We are a 100% remote but a well-integrated and well-matched team. We meet regularly in different parts of Poland. We have much more than work in common! Apart from the passion for programming, it is the sport, love for animals, board games, automotive, movies and series, traveling, games, books, or spending time actively with our children.
A few facts about working with us:
100% remote work and flexible working hours. Free choice of workplace and adjustment of the schedule to your own daily schedule.

Interesting projects. Work on ambitious projects for industry leaders in the US and Western Europe, incl. fintech, HR or e-commerce.

Experienced programmers. Learning from experts, using the company's know-how, exchanging experiences. We know what a project must look like in order to develop and make programming a pleasure.

Effective communication and collaboration. We plan our meetings well, talk to each other every day and support each other.

Support for initiatives. Opportunity to implement your own ideas and participate in team initiatives or participate in the business development of iRonin.IT.

Positive influence. We support public benefit actions, charity fundraising, we care for the environment - we plant new trees at the request of candidates applying for positions in iRonin, we set a good example.
In our projects
we assume a full budget including all activities necessary for the effective conduct of the project;
the client is aware of the time required to apply good coding practice;
applications are developed using the latest versions of the software or are planned to be used.
Tools used
Jira

Trello

Pivotal Tracker

Git

GitLab

GitHub

Slack

Hangout

Zoom

Confluence

Google Tools

PM Sentry
Benefits
Stable employment
Long-term work in the B2B cooperation model
Flexible working hours
Possibility to adjust the working time to the schedule of the day
Life insurance
Individual offer and with the option of family insurance
Medical package
Private medical care - LuxMed service package
Sports card
Activity offer as part of MultiSport Plus
Remote or office work
Possibility of co-financing a position in coworking
Educational materials
Virtual IT library and thematic packages
Hardware and software
Software and hardware tailored to the requirements
English classes
English online conversations with both Polish and native teachers from around the world, at any time.
Employee referral system
You will get a financial reward for every employee successful recommendation.
Opinions of our team
---

I founded iRonin.IT based on the values ​​that I value myself: continuous development, participation in interesting IT projects using modern technologies and commitment manifested by the ability to make decisions, all in a remote, location-independent work environment. I have been a programmer for many years and I know that creating code using the highest standards gives the greatest satisfaction and is an added value for the client. At iRonin.IT, we choose projects that attract IT specialists who value such values.

---

Remote work allows me to spend more time with my family because I don't waste time commuting to work. Everyday, comfortable work in the comfort of my own home helps me in the effective process of solving problems and creating high-quality IT solutions.

---

The "easy" work schedule allows me to act wherever I want. Additionally, working directly with the client, I am responsible for the result of the work. I can fully focus on the code because I know iRonin is focused on my needs as an employee.

---

At iRonin, I appreciate the possibility of remote work. Thanks to this, I can develop my passions, learn oriental languages ​​and do sports, not limiting my activity only to the afternoon hours. It is very helpful in self-development and achieving private goals.

---

Being a "IT Samurai" gives me a real opportunity to solve many demanding tasks with very interesting and often complicated projects. This is a real challenge for me. I like the fact that in iRonin what counts is the effects of work, not the number of lines of code written or tested tasks during the day or the so-called Working - hours.
Check job offers