Contact us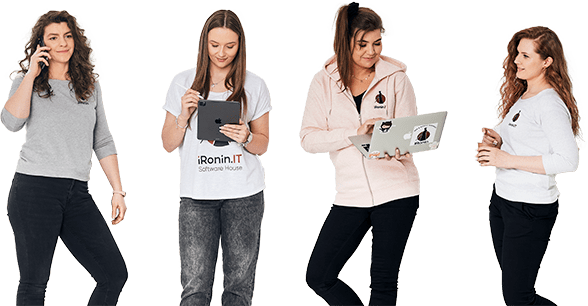 Find out more about working at iRonin.IT
Write to us
If you have questions about recruiting or working at iRonin.IT - contact our HR team! We will be happy to answer your questions!
done_outline
Thank you for sending the message.
We will get back to you as soon as possible.
error
An error occurred
Please try again.
HR team
Meet the people responsible for building the team and co-creating the culture of our organization.
Michał Glinkowski
Business Development Manager
He cares about the comfort of work and good cooperation conditions - you will get to know him at the stage of determining the terms of the contract. Michał knows what to do to make the newly employed person feel comfortable from the very beginning of cooperation with iRonin.IT. Benefits, gadgets, team meetings, training budgets are some of his ways to keep our team happy.
Monika Otulakowska
HR Manager
She cares about onboarding and maintaining high team satisfaction - you will meet her on your first day at iRonin.IT. Monika develops the iRonin.IT internal community. She talks to our remote team on a daily basis, supports initiatives and responds to current needs or implements necessary changes in order to maintain comfortable conditions and effective work for each of us.
Mateusz Łaskawiec
IT Recruiter
IT Recruiter, with iRonin since 2021. An expert in the field of candidate experience, conducts end-to-end recruitment and employs the best specialists in a professional, but above all friendly atmosphere!