Contact us
Find out more about working at iRonin.IT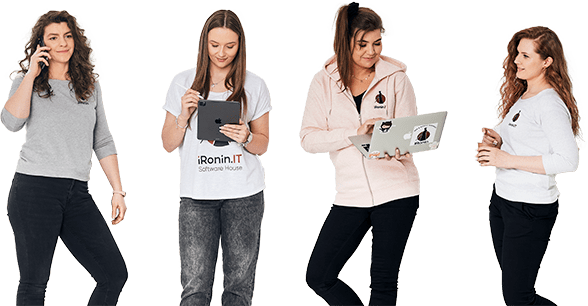 Write to us
If you have questions about recruiting or working at iRonin.IT - contact our HR team! We will be happy to answer your questions!
done_outline
Thank you for sending the message.
We will get back to you as soon as possible.
error
An error occurred
Please try again.
HR team
Meet the people responsible for building the team and co-creating the culture of our organization.
Monika Otulakowska

HR Generalist

Monika jest specjalistą z zakresu HR. W wolnym czasie uczy się podstaw programowania z użyciem Pythona. Od 5 lat w zespole iRonin.

Michał Glinkowski

HR & Administration

Michał koordynuje działania operacyjne, wspiera procesy rekrutacyjne, dobierając kandydatów do konkretnych wyzwań. Od 8 lat w zespole iRonin.

Judyta Sudoł

IT Recruiter

Judyta od kilku lat zajmuje się rekrutacjami IT. Angażuje się w każdy etap rekrutacji - od sourcingu, aż po rozmowy techniczne. Po pracy jest fanką gier RPG i książek fantasy. Jest częścią zespołu HR iRonin od 2021 roku.